AGAPE HOUSE NEWS
Mid-July 2017
Agape House activities resume on August 16 and we are excited about beginning our second year. Over the summer weeks, we have been focusing on the Golden Rule and how to show respect for others by honoring their feelings, their time, and their property. In order for Agape House to fulfill our dedication that is is a place I belong, it has to be a place where people feel safe both physically and emotionally. So, we are working on creating that environment for all of the youth and adults who are involved.
One of the youth asked me recently if I knew how long we would continue Agape House. When I told her we hoped to continue the ministry for a long time, she declared that when she was too old to come as
a youth, she would like to work in the ministry. She's fourteen years old, but something inside her values Agape House for herself and already hopes to give back. What a testimony to what the work, the prayers, and the financial gifts have done over the past year.
A big thank you to Kristi Miller and Melba Ziegler who created the Agape House logo on the DeUMC sanctuary w
all. We would love to talk to more of you about being involved in many ways. Whatever your skills, resources, and time availability, the Agape House ministry can be a place where you belong, too!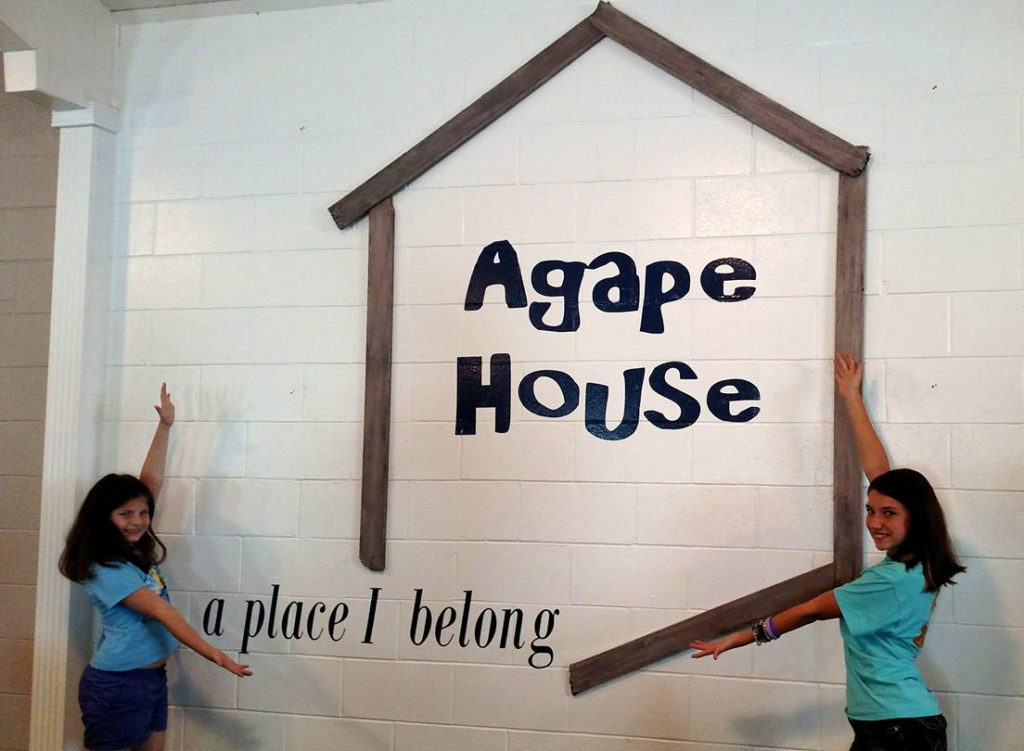 __________________________________________________________________________________________________
Early July 2017
Agape House took a break for a couple of weeks after the school year ended. We started back on June 6th. Attendance on Wednesday evenings has been much lighter, with children on vacations, at camps and playing summer ball.
Our first Children's Story Time this year was a success. We averaged 13 children each week. It was held at Senior Citizen Park, about a block away from the church. We shared an interactive story, sang songs, did a craft and had a snack. One day we had balloon animals courtesy of Mary Ann Hinchcliff.
On Monday afternoons we are playing movies at 2pm. There are several kiddos coming out for popcorn and water and a child-friendly movie.